Archive for the 'Latest News and Views' Category
Our Sister Cecilia Ramisch died at St. Mary's Hospital on January 21, 2019.  
We celebrated the Funeral Mass honoring  Sister Cecilia on February 1.  The Sisters waited for Fr. Mike Joncas to return to the Cities so that he might preside at the Eucharist. Fr. Mike and Sr. Cecilia had a long telephone relationship. Sr. Cecilia was the "fisher of priests" for our daily Eucharist in Bloomington.
And so for our Sister the liturgy began with a Procession into Chapel at Assisi Heights:
At the piano: Lynn Karnati, "How Lovely is Your Dwelling Place,"
Cross Bearer: Christine Holm
First Reader: Tim Murphy, carrying the Lectionary
Second Reader: Mary Kandels

Pall Bearers with coffin:
Kathy Ramisch
Tom Ramisch
Jim Kandels
Andres Raud
Intercessions would be proclaimed by Terry Johnston
Srs. Caroline and Helen carried the Pall
Clare Sisters and Family members followed.
Sr. Jan, ushered in the guests
Fr. Mike Welcomed the worshipers
And began the ritual.
Sr. Margaret sprinkled the cassette with Holy Water;
Srs. Caroline and Helen place the pall on the coffin.
Sr. Gabriel placed the Form of Life and the Crucifix on the coffin.
Sr. Helen offered the  Welcoming and the Eulogy
Liturgy of the Word: Tim and Mary
Homily Fr. Mike
Intersessions: Terry Johnston
Offertory Procession:  Rysia and Ladonna
Communion Ministers: Caroline and Catherine
At the conclusion of this beautiful service for our Sister Cecilia we all sang:
"The Blessing of St. Clare."
The evening before the Funeral Mass at the Vesper service for Sister Cecilia we read  from Sister Cecilia's personal reflections that she had left for us which we call, The Gospel according to Cecilia. 
FROM SISTER CECILIA
"Following six years of Poor Clare community life at Sauk Rapids and nine months receiving temporary hospitality from the St. Joseph Sisters at Holy Angels
Secondary School, Richfield, Minnesota, I was very excited to settle in Bloomington, to make Jesus' presence known through our prayer, daily Eucharist, the Divine Office and contemplative community. Later I found an additional
way to make Jesus' presence known through a telephone ministry, receiving incoming calls for prayer and offering to each caller a listening ear." Sister Cecilia
SISTER CECILIA:
"My father died suddenly on April 29, 1949, the final day of an 8-day retreat before my first vows. That evening I had a dream about my father. I saw him lying on a cross. There was a sense of God's great mercy surrounding him.  When I was awakened by the Abbess and Vicaress to inform me that my father had died I was not surprised." 
Blessings to all,  Sister Cecilia
"Keep Your Eyes on Me": a song written by Sebastian Temple, a secular Franciscan, way back in the 60's. 
     Outside the walls and down the hill from Assisi is the little chapel of San Damino. It was there, praying before the Crucifix, that the young rascal, Francis, destined to become the world famous saint, was commissioned to transform our world into a place of beauty and love.
     And this is a replica of the San Damiano cross in our Assisi Heights third floor chapel.  It is here that the we Clares gather five times a day to continue that prayer of Francis for God's beloved people.
     The flowers are from Brother Bob Frazzati and Friar friends from the East Coast.

     Every August 11th for the feast of St. Clare of Assisi, we receive, that is, the Clares throughout the world, a letter from the Minister General of the Order of Lesser Brothers, the Franciscan men of our multifaced Franciscan family.  Brother Michael Anthony Perry is our current Minister General and Servant.  His letters are inspiring and challenging.  
On the cover of his letter he has a painting on wood by a Spanish Friar, Fra Miguel Angel.  It is interesting because Clare, as a mature, fully garbed nun, is kneeling on one knee outside the monastery at night gazing at a crescent moon and stars.  This makes me chuckle because I would put Francis in this picture and Clare inside the Chapel gazing at the 12th century San Damiano Cross, the resurrection cross, with Christ's arms out-stretched to embrace all God's people.
      When you open to our Blog banner you notice something different. You no longer see the Bloomington Monastery in the seasonal photo with our St. Clare there to greet you. If you haven't heard yet we have moved. Yes, we are south of the Cities in Rochester, MN, motherhouse of the Franciscan Sisters of Rochester and the famed Mayo Clinic. We moved February 7th, a date none of us will forget. It was in the depths of white winter and bitter cold.
     I wanted to work on our Blog banner right away but where could I find seasonal photos in this colorless environment. Then I heard about Sr. Elizabeth Gillis who lives here with us and for years has photographed the seasonal landscapes around the Motherhouse. Sr. Elizabeth loaned us her "thumb drive" where among her many beautiful photos we found exactly what we wanted. Kim, here at the Motherhouse and her bright young son, Nick, and Jonya, my new friend at the Rochester public library helped get the photos on to the web. 
     The next quest was where do we find an image of St. Clare.  After canvasing the Motherhouse for inages of St. Clare I remembered the statue of Clare that was carved for Mayo Clinic, St. Mary's Campus, about twelve years ago. Ready to rush right over to St. Mary's and photograph the carving, I was alerted to the fact that the statue was in storage due to ongoing building projects at St. Marys.   Then in a happy turn, Wes Thompson, Facilities Director here at Assisi Heights, directed me to Sr. Lauren Weinandt, longtime archivist at St. Mary's.  In the archives of the famous hospital was the history of the making of this amazing statue of St. Clare with photographs of the day on which Clare's image was blessed.
     This next part of the story is personal to me.  I remembered the visit about 13 years ago of a young woman from St. Paul, MN, who was commissioned to carve a statue of St. Clare for St. Mary's Peace Garden.  We met in one of the parlors in our monastery in Bloomington.  One of her questions was about symbols appropriate to St. Clare.  I suggested that Clare was known for washing the feet of her Sisters when they returned from their ministry outside the monastery.  What I remember most clearly of the encounter is that I took the young woman to our sacristy and showed her the bowls and pitchers crafted by the fine potter, Warren McKensie, of Stillwater, MN, the pottery which we used at the liturgy of the foot washing every Holy Thursday. I think that I showed her the towels also.  When I saw the archival photos this all came back to me.  The name of the sculptress is Caprice Kueffner Glaser.  And here is the Clare she gave us.
Sister Caroline Berres took these beautiful photos shortly after Clare was placed in the Peace Garden.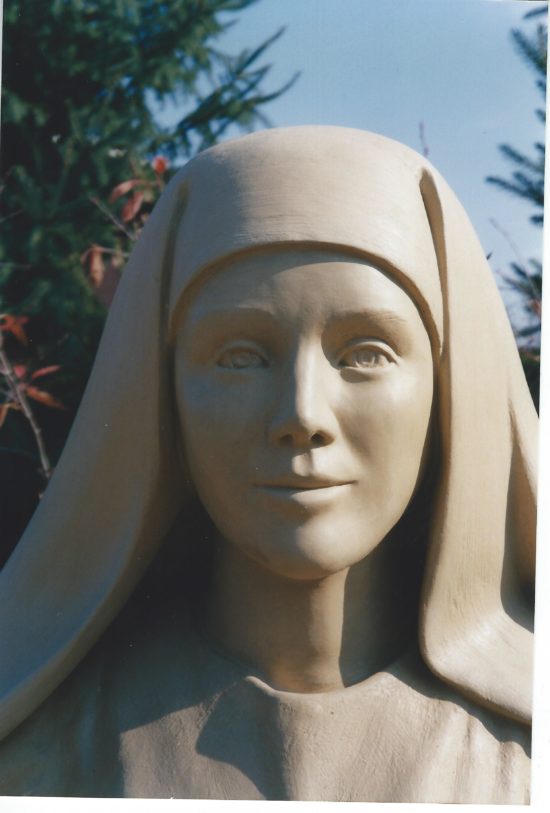 Sunday at the Church of the Assumption

 
Doctor Miguel Fiol, a professor of Neurological science at the University of Minnesota, an immigrant from Puerto Rico, and Doctor Betsy Murray, a professor of child psychology also at the University of Minnesota, met with parents of small children, fielding questions about these very dangerous times for immigrant families and the repercussions for their children. I was there as a quest observer.
     In a near-by gym the children were guided by professionals to express their feelings of fear and anger through various forms of art. These children know about "Trump" and he enters into their games, their fright-filled games.
     In the session for adults, one of the questions was, "How do I comfort my daughter when she comes home from school and tells me that an old woman, an Anglo, called her 'dirty' and told her to go back to Mexico."
     Another mother asked: "How can I assure my child that we will be always there for him?" The professors emphasized how important it was to provide an atmosphere at home where the children could freely express their fears and know that what they were afraid of, namely that they would come home from school and their parents would not be there, is a real fear. At the same time they must know that their parents love them dearly and are working with good people all over the United States to change the behavior of ICE, and la Migra.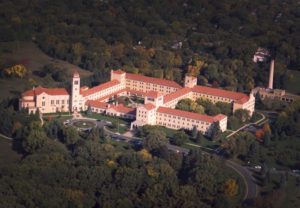 The Motherhouse at Assisi Height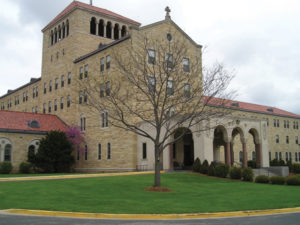 Entrance to Assisi Heights, Home of the Rochester Franciscans
Dear Friends and family,
In 1953 a small group of Poor Clare Sisters came down from Sauk Rapids MN to the Archdiocese of St. Paul/Minneapolis to found a Franciscan Poor Clare Monastery here in Bloomington, south Minneapolis. Land was donated by the St. Martin family, a portion from their farm. Through the funding and help of the families and friends of the Sisters work began on the building and landscaping, including a two acre Pine forest on the almost 5 acre plot of land.
The monastery evolved in tandem with the archdiocese and along with the emerging cultural changes in our Country after World War II. The Second Vatican Council dramatically affected both our Church and our World including our Monastery. The Monastery was on path to becoming a house of prayer for all God's people.
Now through prayer and discernment we are being asked to pass on this beloved home loaned to us for some sixty years. Due to the aging of our Sisters and the lack of new vocations to our form of life, we are no longer able to care for this beautiful place of peace and devotion and give the Sisters the care they need.
Our prayer is one of great gratitude for our time among you with a hope that the use of our property might continue to serve God's people in new and wonderful ways. We will never forget you and ask for your remembrance of us in prayer.
Your Poor Clare Sisters
Your Clare Sisters will be living on the third floor in a wing of this beautiful building which we call "our Little Portion."
A link to information about our new home at Assisi Heights in Rochester, MN
https://www.youtube.com/watch?v=UP8_QG0vBJM&feature=youtu.be